(by Beth Aggett and Walter van de Leur)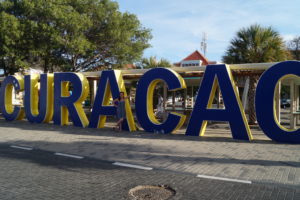 The first day of September saw Amsterdam-based CHIME-members Walter van de Leur and Beth Aggett travelling to the Caribbean island of Curaçao to attend the 'tropical edition' of Rotterdam's North Sea Jazz Festival. Curacao is a small island of around 160,000 people, lying just off the coast of Venezuela – indeed a good 8000km away from Europe and its jazz festival scene. It is however a former Dutch colony, with a rather turbulent past: Curacao was 'discovered' by the Spanish in 1499, conquered by the Dutch in 1634 and even seized briefly by the British in 1812 – all the while serving as an important 'depot' during the transatlantic slave trade (1640s – 1860s). Although it was primarily a trading post, there were around 100 small plantations established on the island during the seventeenth and eighteenth centuries, on which slaves lived and worked. Curacao's central Caribbean location and free port meant it was also a stopping point for traders and travellers from all over, and it has a long history of in and out migration from the surrounding region and much further afield. The island is therefore connected to the European, African and American continents in myriad ways, resulting in a highly complex socio-cultural landscape. The locals' mother tongue of Papiamentu, for example, displays components of Spanish, French, Dutch, English, and West African languages, and most Curacaoans are multilingual. In contrast, much of the architecture is distinctly Dutch, and there remain many tangible links to the colonial period. We noticed the Netherland's coat of arms on government buildings, for example, and plaques commemorating visits of the Dutch royals displayed in town. Indeed it was only a few years ago that Curacao celebrated gaining independence; although the process of decolonization of Dutch Caribbean territory began in 1954, it wasn't until 2010 that Curacao achieved full recognition as an autonomous country within the Kingdom of the Netherlands.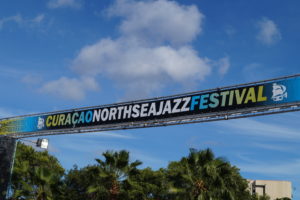 Also in 2010: the very first Curaçao North Sea Jazz Festival (CNSJF). The country's own charity organisation Fundashon Bon Intenshon produced this 'sister' event in collaboration with Mojo Concerts (owners of North Sea Jazz, who are themselves owned by the American company Live Nation). In bringing a 'world-renowned festival brand' to Curacao, the organisers hoped to attract a new demographic of visitors to the island – an international, wealthy, and sophisticated 'jazz crowd' – that would boost the country's stagnant tourism industry. Like much of the Caribbean, Curacao's economy is heavily dependent on tourists; its 'sun, sea, and sand' are the most important draw. The island's capital of Willemstad, furthermore, has been designated a UNESCO World Heritage Site because of its unique colonial architecture – another crucial selling point. Indeed, the festival's CNSJF website describes it as an 'untouched paradise' with an 'authentic' and 'historic' centre and 'vibrant' culture.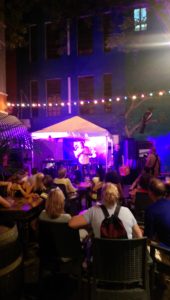 During the first lustrum of Curacao's national independence, then, this small Afro-Curacaoan/Dutch/Caribbean/Central American island has been host to one of the largest and most significant events in the European jazz festival circuit/scene. CNSJF therefore is ideally situated to study a number of CHIME-related questions, such as the relationship between the festival and (constructions of) local cultural heritage. How are the heritages of both the festival location and the history of jazz music dealt with in the production of the festival? Does the music invite engagement with the heritage location, does it ignore it, or does it reconfigure the visitor's relationship to place? In what ways can the presence of CNSJF act as a lens to interrogate concepts of cultural identity? Furthermore, how does the festival help us to think about the meanings and usages of jazz today? What are the possible synergies and frictions?
Interestingly, CNSJF is preceded by a low-key free festival called Punda Jazz that is organised by the bars and restaurants in the oldest district in Willemstad. With its strictly local acts, Punda Jazz provided an interesting counterpoint to its star-laden 180-dollars-per-day bigger sister across the bay. In our next blog post we will talk about our experiences at both events.