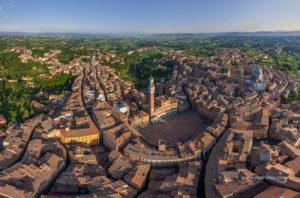 This week the major international gathering of the CHIME project takes place, in Siena, Italy. We welcome everyone attending and contributing. Our conference, titled Music, Festivals, Heritage, seeks to explore a number of key themes, questions or problems for the field, including:
Established and innovative uses of heritage sites and public spaces
Festival sites and cultural memory
Transformations of place: music festivals as utopian sites
Questions of music genre (e.g. jazz, opera, folk, rock, classical) and the construction of heritage at festival
Festival as dull culture: repetition, predictability, boredom
The tension between the conservation and the use of heritage sites
Festivals and cultural tourism
New models of engagement between festivals and cultural heritage
Festivals as sites that explore the relationship between tangible, intangible and digital heritage
Critical perspectives from festival programmers, producers, organisers
The mediation and representation of (heritage and) festival
Festival as exclusive community; festival as marginal space
From carnivalesque to festivalisation: theoretical approaches and questions of festival
The cultural politics of festival sites.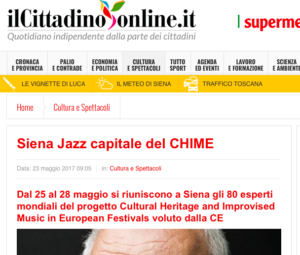 Our location is the Siena Jazz Archive, which holds the most important specialised collection in Italy; it includes more than 25,000 sound and video items, over 2,000 books, and thousands of magazine issues including the only complete collection of the Musica Jazz magazine. Here is a feature in the Italian press about the conference.
On behalf of the CHIME project and the organising commitee, conference convenor Prof Walter van de Leur says:
We are hugely excited about the international conference here in historic and beautiful Siena this week, in collaboration with the Siena Jazz Archive. The conference is a major part of our EU Heritage Plus programme CHIME project. We are delighted to be hosting around 70 speakers coming from 23 countries across Europe, Canada and the US,  South Africa, Colombia, and Australia. We look forward to stimulating, enjoyable and productive discussions around music, festival and heritage from the perspectives of academic research, the festival and music industries, and cultural policy.
Further information, including the daily schedule of papers and presentations, exhibition, lectures, plenary, reception, and screenings is available
here
, where you can also find travel information for international delegates coming via Florence and Pisa airports, for instance.