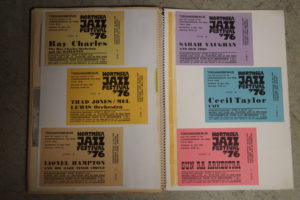 This exhibition tells a story of jazz festivals in the Netherlands through objects. It is a story that originates in the jazz competitions held in the 1930s and which encompasses about 85 years of music, people, festival sites, and objects. While over the years jazz festivals have grown to cover a wide range of musical styles, performers, audiences, and venues, some consistency can be found in these festivals' ambitions to engage with international musicians and to connect with local communities.
Both a creative space and place for cultural consumption, the festival is also very much a material culture. What remains of a jazz festival when the music, the musicians, the organizers, and the listeners have left? How does intangible cultural heritage of jazz turn into tangible heritage? How does a festival materialize in objects, and what can we learn from this? To engage with these questions, we have used a concept modelled after 'A history of the world in 100 objects,' a series by Neil MacGregor, director of the British
Museum, that explores world history from two million years ago to the present.
A collaborative project between CHIME, the Nederlands Jazz Archief (NJA, Dutch Jazz Archives), and photographer Foppe Schut, the exhibition is designed as a digital travelling exhibition, to be projected at festivals and conferences. We have focused specifi cally on awards, merchandise, jury reports, and other artefacts that have been produced as part of the festival, or which – in the case of the scrapbooks – have been made with festival artefacts. Most of these objects are in the repository of the NJA. Consequently, this selection excludes other parts of material culture that are indisputably part of festivals, such as festival sites, instruments, music stands, gear, clothing, portable toilets, food, or beer stands.
Click here to download the Exhibiton brochure: CHIME-travelling-exhibition-2017