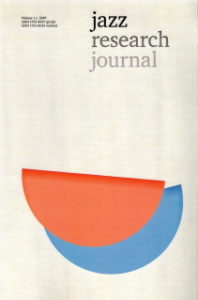 With my co-author, postdoctoral research assistant Dr Emma Webster, I'm pleased to draw attention to our newest output from our AHRC-funded project, The Impact of Festivals. This project is in collaboration with our research partner the EFG London Jazz Festival. The new output is a peer-reviewed article for Jazz Research Journal focussed on the impact of jazz festivals in particular. (The wider project embraces pop, folk and classical music festivals too.) The abstract is below, followed by a short film in which I talk about the research. You can access freely a copy of the article here.
The full citation of our article is: Emma Webster and George McKay. 2016. 'The impact of (jazz) festivals: an Arts and Humanities Research Council-funded research report'. Jazz Research Journal 9(2), pp.169-193. We hope it will be of interest to CHIME-rs and our international community of jazz researchers at Rhythm Changes.
Festivals are an essential part of the jazz world, forming regularly occurring pivot points around which jazz musicians, audiences and organizers plan their lives. Funded by the UK's Arts and Humanities Research Council, the purpose of this report is to chart and critically examine available writing about the impact of jazz festivals, drawing on both academic and 'grey'/cultural policy literature in the field. The review presents research findings under the headings of economic impact; socio-political impact; temporal impact and intensification and transformation of experience; creative impact—music and musicians; discovery and audience development; place-making; the mediation of jazz festivals; and environmental impact. It concludes with a set of recommendations for future research, which identifies gaps in the field. To accompany the article, a 100-entry 40,000-word annotated bibliography has also been produced, which is freely accessible online.