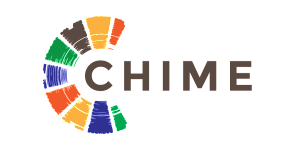 The CHIME logo, designed by Marijn van Beek in collaboration with PI Walter van de Leur, captures some of the main ideas that come together in the project. The main form is inspired by the quote that opened our proposal:
"What an amazing experience, the clash of seeing Miles Davis in the Roman amphitheatre during the Nice Jazz Festival. The ancient stones and arches are resounded, the music somehow more resonant, old and modern at the same time. I'll never forget that…"
The amphitheatre – its individual segments suggestive of castle towers — at the same time alludes to an LP record, while its colour scheme calls up the 1950s jazz cover art for Blue Note, Prestige and Atlantic.
The font of the lettering is called Montserrat, which is the name of a number of heritage sites across the world, from Catalonia to Buenos Aires. And yes, there is a Montserrat jazz festival (at the Montserrat College of Art, USA). And no, there are no bell chimes to be found in our logo.