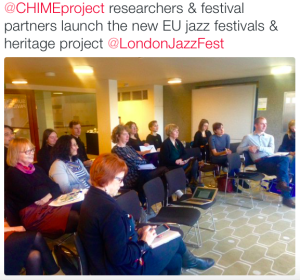 A group of international scholars and festival organisers and music producers gathered at the Royal Festival Hall in London during the EFG London Jazz Festival to launch the project. I took some notes, both for the record and to help us shape 2016 meeting agendas and work.
Project leader Prof Tony Whyton (Birmingham City University) introduced the day, reminding us of the project's key questions around heritage sites, jazz festivals—ranging from jazz as a heritage music from itself today to urban regeneration to difficult questions of the intangible impact of festivals on festival-goers.
Prof Helene Brembeck and Merja Liimatainen (University of Gothenburg) talked of the place of consumption at festival as a core experience for festival-goers, in particular in the context of the presentation and consumption of heritage, memory, the past, at jazz festivals. How does music re-sound the architecture of the city at festival? The Swedish team will be looking at contrasting jazz festivals in Gothenburg, Gamlestaden Festival and the Classic Jazz Festival, a process of embedded research within the organisations and ethnography and cultural history, critical interrogation of festival imagery, publicity and events and venues.